Ukraine: Poroshenko urges Nato to deploy ships in the Azov sea to 'provide security' to the country
Comments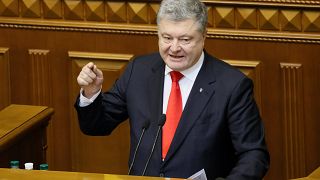 Copyright

REUTERS/Valentyn Ogirenko

-
President Petro Poroshenko of Ukraine has urged NATO to deploy ships to the Sea of Azov after Russia seized Ukrainian naval vessels and crews off Crimea.
In an interview with German newspaper Bild on Thursday, Poroshenko said he hoped European states will take action in protecting the country from Russia by relocating ships to "assist Ukraine and provide security."
His comments come after Russia fired on and seized three Ukrainian naval ships and took sailors into custody off the coast of Crimea on Sunday, with reports that three were wounded.
NATO has expressed "full support" for Ukraine and chief Jens Stoltenberg demanded this week in a statement that Russia release the Ukrainian ships and sailors, warning Moscow that "its actions have consequences."
NATO spokesperson Oana Lungescu told Euronews on Thursday that the body has "substantially increased its presence in the Black Sea" since Russia's "illegal annexation of Crimea in 2014."
The body and its allies will continue to support Ukraine in modernising its forces and allies will train Ukrainian Navy officers.
"In 2018, NATO ships spent 120 days in the Black Sea, compared to 80 in 2017. Several Allies conduct NATO air policing in the region, and Allies also conduct regular reconnaissance flights over the Black Sea," Lungescu said.
On Wednesday, President Vladimir Putin insisted that his forces were right to move in on the vessels accusing them of illegally entering its waters. He said Poroshenko was creating a naval "provocation" to boost his ratings ahead of presidential elections in the country in 2019.
But Poroshenko said the international community must not accept Russia's aggressive policy.
"First it was Crimea, then eastern Ukraine, now he wants the Sea of Azov," Poroshenko said.
Meanwhile, Turkey's President Recep Tayyip Erdogan said Ankara could play a mediation role between Russia and Ukraine to ease the growing tensions, at a press conference in Istanbul on Thursday.
"Here we could take on a mediator role and we have discussed this with both sides," Erdogan said. "Both Mr Putin and Mr Poroshenko in our talks made requests. We will convey the (Ukrainian) demands to Mr Putin in our meeting in Argentina."
His statement came after talks with Putin, Poroshenko and US President Donald Trump this week and Erdogan is to meet the American leader at the Group of 20 meeting in Buenos Aires, Argentina, to discuss the matter, White House Press Secretary Sarah Huckabee Sanders said.
Moscow annexed Crimea from Ukraine in 2014 and the naval vessels had been sailing from Odessa in southern Ukraine to the Ukrainian port on the Azov Sea, Mariupol, when the confrontation took place.
In a 2003 treaty, Russia and Ukraine agreed to share the Azov sea but Russia opened a bridge across the Kerch Strait this year, increasing tensions between the two states.
Ukraine accuses Russia of blocking two of its ports, preventing its ships sailing through the Kerch Strait.
This week, Poroshenko warned of the threat of war and imposed martial law for 30 days in regions bordering Russia, the Black Sea and the Sea of Azov.
The EU condemned Russia's actions but has not agreed on sanctions against Russia.
The bloc said in a statement that there is "utmost concern about the dangerous increase of tensions" and alarm at the "unacceptable" use of force by Russia.
NATO Foreign Ministers will meet with the Ukrainian Foreign Minister next week to discuss developments in the Sea of Azov, the group's spokesperson said.
"The [NATO] Secretary General is in regular contact with President Poroshenko," Lungescu said.