Pittsburgh synagogue shooting treated as hate crime, victims' families 'in shock'
Comments
By Saphora Smith with NBC News U.S. News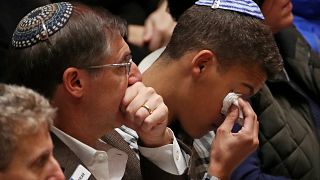 Two brothers and a married couple were among the victims after suspected gunman Robert Bowers went on a rampage during a weekly service at the Tree of Life synagogue in Pittsburgh on Saturday.
The victims' families are "in shock" and "grieving," Dr. Karl Williams, the chief medical examiner for Allegheny county told reporters Sunday.
The toll of Saturday's synagogue shooting began to come to light Sunday morning as officials revealed more details of the massacre.
The 11 victims ranged in age from 54 to 97, authorities said during a press conference.
Williams, the chief medical examiner, said autopsies had begun but would not give a time frame on how long it would take to complete.
The federal charges released Sunday said Bowers took four firearms into the synagogue, three Glock handguns and semi-automatic rifle. Authorities said that he used all four weapons.
Bowers, who is currently being treated for gunshot wounds in hospital, is believed to have acted alone and is due to appear before a judge on Monday afternoon, U.S. attorney Scott Brady said Sunday.
"He will be held fully accountable," Brady told the press conference.
News
Authorities said Sunday they were treating the attack as a hate crime and that Bowers had mentioned his hatred for Jews.
FBI special agent Robert Jones said it remained unclear why Bowers chose the Tree of Life synagogue and whether or not he had scoped out the premises before launching his attack.
He said when officers arrived at the scene on Saturday, Bowers appeared to be attempting to exit the synagogue. Jones said that if he had made out of the synagogue there was a strong possibility more violence might have ensued.
Jones said he expected the investigation into the crime scene at the synagogue may take up to a week to process.
Jeff Finkelstein, CEO of the Jewish Federation of Greater Pittsburgh, said three different congregations hold services in the Tree of Life synagogue in Pittsburgh but could not say how many were meeting on Saturday.
Authorities said victims were found in three different locations within the synagogue.