NASA's InSight lander: What's next?
Comments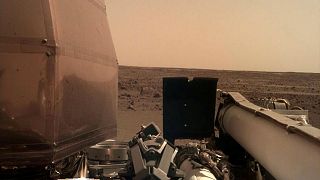 NASA's InSight lander completed a seven-month journey through space after landing on Mars yesterday, but its work on the Red Planet has only just begun. The probe has sent initial images of its landing site – the Elysium Planitia, a broad volcanic plain that straddles Mars' equator.
InSight is the first robotic lander designed to study the deep interior of another world. Using German-designed instruments on board, the lander will penetrate Mars' sandy red exterior and take readings that will give scientists more information about what lies beneath the planet's surface.
But while the lander has already opened its solar panels and started sending pictures to mission control, final seismic results won't be on their way back to Earth for at least two years.
"They're going to go very, very slowly to make sure that they get the right spot to put down their seismometer," said Euronews' space correspondent, Jeremy Wilks. "They're going to map the terrain in 3D using the lander's camera, then they use the robot arm to put the seismometer next to the lander."
Find out more about the science behind NASA's InSight lander here.