What is Ukraine's game in imposing martial law? | Raw Politics
Comments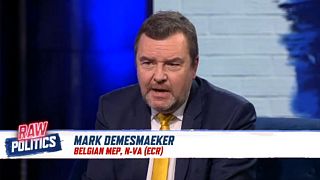 Ukraine's government has agreed to impose thirty days of martial law in ten regions situated on the border with Russia and along the Black Sea coast.
Euronews' political editor Darren McCaffery asks what Ukrainian President Petro Poroshenko's game plan is, citing fears that the martial law may extend beyond the 30-day agreement and could affect the upcoming presidential election.
However, Belgian MEP Mark Demesmaker said he thought the martial law would not interfere with the election, reminding the panel that the decree is limited and that Sunday's incident is "the first time there is an open and direct confrontation between [Ukraine and Russia]."
Nina Schick, the director of data and polling at Rasmussen Global, said she didn't expect to see any "boots on the ground" reaction from NATO and the EU.
She said she instead found it interesting to view Ukraine as "ground zero of Russia's hybrid war."
Find out what the Raw Politics panel had to say about Ukraine's decision to impose martial law by clicking on the player above.