Dublin football club in trouble after faking player's death
Comments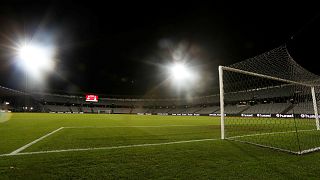 Copyright

Reuters/Matthew Childs
A football club in Dublin, Ireland, has been widely criticised after it was revealed the club faked the death of one of its players.
Ballybrack FC informed the league officials of the player's death last Friday, saying he had been killed in a car crash on the way home from training the evening before.
As a result, the team's upcoming match against Arklow that weekend was cancelled, while other teams in the league wore black armbands and observed a minute's silence as a mark of respect.
Many shared their condolences for the friends and family of the player on social media.
However, all was not as it seemed. And it was later confirmed that the deceased player, Fernando Nuno La Fuante, was actually alive and well, and had just returned to his home country of Spain.
The Leinster Senior League released a statement on Tuesday evening saying it had acted "in absolute good faith" after hearing the news of the player's 'death,' confirming it now understood the claims were "without foundation."
"When notified by a representative of Ballybrack FC as to the death of a member player, we immediately offered our heartfelt condolences and also shared the sad news with all other LSL clubs in order for them to offer their individual condolences," the statement read.
"We are glad to hear that the player is in good health and has returned to his native Spain."
The league later confirmed an investigation had been opened and would deal with the issue through "internal disciplinary procedures."
In a statement posted to Facebook, Ballybrack FC said the incident was "a gross error of judgement," confirming the person involved had been "relieved of all footballing duties."
"The grave and the unacceptable mistake was completely out of character and was made by a person who has been experiencing severe personal difficulties unbeknownst to any member of the club," the club said.
"The club has contacted Fernando to confirm his whereabouts, well-being and are thankful for his acceptance of our apology on this matter."
"We are all taken aback by this event and hope to try to work with all relevant organisations and agencies to learn from this mistake.