I'm being 'thrown out' of the European Parliament, says Sinn Fein MEP
Comments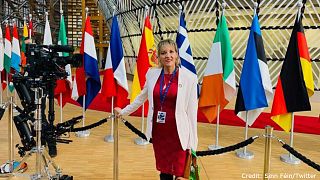 Sinn Fein MEP Martina Anderson told Euronews she would be "thrown out" of the European Parliament in March 2019 because of Brexit.
Anderson and her party called for a Remain vote in the referendum, alongside 56% of the population of Northern Ireland.
Now she says the withdrawal agreement "should pass" in Westminster in December, when UK MPs vote on the entire Brexit deal so far.
"It's a stepping stone in that there is a special status for Northern Ireland," she said, but citizens are about to lose their representation as soon as Brexit happens next year.
"On March 29, I'm being thrown out of here, as a representative of the republican nationalist community of the people of Northern Ireland," she added.
"As long as Ireland remains in the EU, Irish citizens in the north will be EU citizens with all the rights that go with it," Anderson.
But there will no longer be any MEPs from Northern Ireland, as all of the UK's representatives to the European Parliament will be stood down with Britain's departure from the bloc.
Anderson praised the "solidarity" of her colleagues in the European Parliament from all political hues.
""I have to say the solidarity that we have received has been remarkable and welcome and the people of Ireland acknowledge this fact.
"The fact that there is going to be no physical infrastructure on the border partitioning Ireland is definitely to be welcomed.
"It's something that we have been pushing for and arguing for and we've been on the diplomatic offensive to garner international solidarity across the EU member states so people understand the Good Friday Agreement.
"My focus and our attention is on the 56% of people who voted to remain", she said, as well as the "growing number"" of those who have changed their mind.