Police fire tear gas at yellow vest protesters in Paris
Comments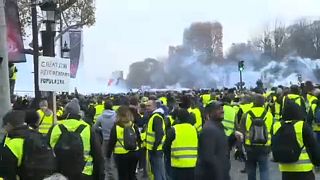 Police have fired tear gas and water cannon at yellow vest protesters in Paris who are angry at rising fuel costs and President Emmanuel Macron's economic policies.
The protests are now in their second week and have caused disruption across France.
Several hundred protesters had converged on the Champs Elysees where they faced police sent to prevent them from reaching the nearby presidential Elysee Palace.
Some protesters carried signs saying "Macron, resignation" and "Macron, thief".
For more than a week the protesters have blocked highways across the country with burning barricades and convoys of slow-moving trucks, obstructing access to fuel depots, shopping centres and some factories.
They're opposed to taxes Macron introduced last year on diesel and petrol which are designed to encourage people to shift to more environmentally friendly transport.
Security forces are concerned that far-left and far-right extremists may infiltrate the demonstrations, escalating the crowd-control challenges.
Around 30,000 people are expected to protest in Paris alone the police estimate, and around 3,000 police officers were drafted into Paris on Saturday