Russia's homeless escape sub-zero temperatures on old buses
Comments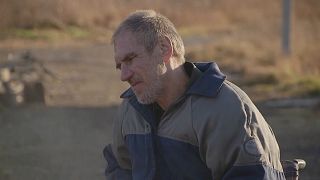 Homeless people in Russia's eastern city of Khabarovsk are escaping sub-zero temperatures this winter by seeking shelter aboard decommissioned buses.
Ivan Mankovsky, president of the charity fund Prosperity, was inspired to ask businesses to donate old buses after local authorities said there was no funding available to rebuild the local homeless shelter, which burned down in May.
"At the moment we have been given two buses, the third one is being prepared," Mankovsky told the Associated Press. "Living conditions are pretty good, and, for people who are in a difficult situation, you cannot imagine a better thing."
The old buses were swiftly transformed into shelters in a matter of hours after the seats were replaced with beds and curtains hung. 
But while Mankovsky is optimistic about the project, he said more funds are needed.
To keep residents safe, the buses need to be equipped with fire alarms and heaters, which cost around €1,300. Currently, there are no cooking facilities or toilets available.
And as local authorities maintain there isn't enough money to rebuild the shelter, the bus-turned-refuge idea appears to be the only hope for Khabarovsk's homeless population.