European elections 2019: Strasbourg uses Donald Trump to motivate voters
Comments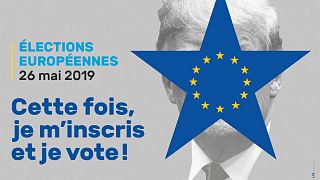 Copyright

Marie de Strasbourg
Authorities in Strasbourg have found a novel way of getting voters out for next May's European Parliament elections: Donald Trump.
Posters of the US president with a European flag plastered over his face have been appearing in the French city.
"This time, I will register myself and vote," the poster reads.
The advert, organised by Strasbourg city council, attempts to put fear into voters' minds at the prospect of populists like Trump gaining ground in Europe.
"It is normal that Strasbourg (as co-host of the European Parliament) plays a role to get citizens to register for the election," said Jean-François Lanneluc, director of communications at Strasbourg city council.
"Europe remains a kind of model to support against the isolationist temptations that Trump embodies."
Strasbourg, like the rest of Europe, will go to the polls at the end of May 2019 to elect their MEPs.
The 2014 European Parliament elections saw historically low voter turnout, averaging at 42.61% across Europe and 42.43% in France.