Wildfires spark emergency warning in Australia's New South Wales
Comments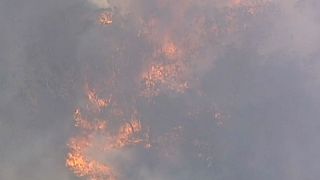 An emergency warning was declared on Thursday by fire officials in New South Wales, Australia, as bush blazes swept through the state. 
Wildfires were burning out of control in the Salt Ash area near Port Stephens, about 200 kilometres north of Sydney.
It's already too late for some residents in the area to evacuate and the Rural Fire Service (RFS) asked them to seek shelter as the blaze advances.
Firefighters are working to protect properties, backed by air tankers.
The cause of the wildfires is not yet known.