Iconic stretch of Berlin Wall wins protection from developers
Comments
By Carlo Angerer with NBC News World News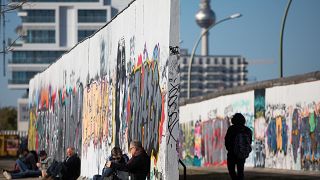 Copyright

Jorg Carstensen

-
MAINZ, Germany — The longest remaining section of the Berlin Wall has been saved from the threat of demolition.
The so-called East Side Gallery, a three-quarter of a mile stretch that's famous for its art works, has was this week transferred into the care of a public foundation amid fears that it could be lost to property developers and debate about how the German capital protects its historic landmarks.
During the Cold War, it was part of the border separating East and West Germany. Ten people died while trying to flee the communist country in the section that was later turned into the East Side Gallery.
After the wall fell in 1989, more than 100 international artists painted over its concrete transforming it into the world's longest outdoor gallery. It has become a symbol for the joy of reunification, but also reminds visitors that Berlin was once a divided city.
While the East Side Gallery has become one of the most visited landmarks in the city, its future was uncertain due to a construction boom.
In 2013, sections of the wall were removed to make way for an access road to new luxury apartments.
The Berlin Wall Foundation, which already runs other memorials and museums in the city, took control of the East Side Gallery this month. It plans to preserve the artwork and run guided tours, while also keeping the area, which is located along a busy road, easily accessible.
"We are happy that our foundation is trusted with the preservation and care of this monument," said Hannah Berger, a spokeswoman for the organization. "It's also important that we can now explain this place."
Berger said the foundation hopes it can preserve the area's character and plans to conduct archaeological research that aims to uncover the foundations of a guard tower that once stood nearby.