American missionary wrote 'God, I don't want to die' shortly before being killed by remote tribe
Comments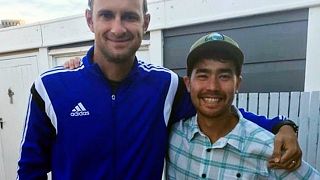 Copyright

AP - John Allen Chau pictured right
An American Christian missionary has reportedly been killed by an isolated tribe on North Sentinel Island off the coast of India, after visiting the island for the second time.
John Allen Chau, 26, first visited North Sentinel Island bearing gifts that included a football and fish.
He interacted with tribesmen who have little contact with the outside world and survive by hunting, fishing and collecting wild plants until they became angry and shot an arrow at him, according to The Associated Press.
The tribe is known for attacking anyone who comes near with arrows and spears.
The initial spear struck a book Chau was carrying, which an acquaintance said was a Bible. The adventurer then reportedly swam back to a boat of fishermen that was waiting at a safe distance.
That night, he wrote about his contact with the tribe and left his notes with the fishermen. Chau's journal of his last days was shared with The Washington Post by his mother.
The text speaks of a treacherous journey by dark in a small fishing boat to the area where the small tribe lived in huts. He described the tribesmen as about 5 feet-5 inches tall with yellow paste on their faces, Chau wrote — reacted angrily as he tried to attempt to speak their language and sing "worship songs" to them, he wrote.
"I hollered, 'My name is John, I love you and Jesus loves you,'" he wrote in his journal. One of the juveniles shot at him with an arrow, which pierced his waterproof Bible, he wrote.
"You guys might think I'm crazy in all this but I think it's worthwhile to declare Jesus to these people," he wrote in a last note to his family on November 16, shortly before he left the safety of the fishing boat to meet the tribesmen on the island. "God, I don't want to die," he wrote.
He returned to North Sentinel Island the next day, on November 16 to continue his mission of converting the natives.
What happened next is still unclear, but on the morning of the following day, the fishermen who escorted Chau, watched from the boat as tribesmen dragged Chau's body along the beach and buried his remains.
A police statement for the Andaman and Nicobar islands late on Wednesday said the police and India's coast guard carried out an aerial survey of Northern Sentinel Island the previous day.
A team of police and forest department officials used a coast guard boat to visit the island on Wednesday and another visit was planned on Thursday, according to AP.
Police said the seven fishermen had been arrested for helping the American reach North Sentinel Island.
Visits to the island are heavily restricted by the government.