Is Britain's Prime Minister facing Mayday over her Brexit plan?
Comments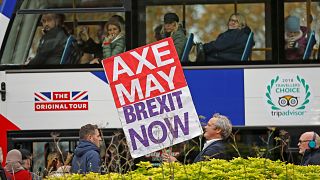 British Prime Minister Theresa May is shoring up her support as the threat of a leadership challenge looms.
So far she's survived a week that saw two cabinet ministers resign over her draft Brexit deal.
May has now brought her long-time ally Amber Rudd back to cabinet as works and pensions minister.
"This is not a time for changing our leader, this is a time for pulling together, Rudd said after her appointment.
There was much speculation that Environment Minister Michael Gove was going to resign too.
But he's now part of a group of five hard Brexit cabinet ministers urging May to re-write her draft.
"I think it's absolutely vital that we focus on getting the right deal in the future and making sure that in the areas that matter so much to the British people we can get a good outcome," he said on Friday.
May has appointed junior health minister Stephen Barclay as Brexit Secretary, replacing Dominic Raab, who resigned on Thursday.
A few rebel Conservative MPs have openly said they've applied for a vote of no-confidence in May, but it's not clear if and when that number will reach 48 and so trigger a leadership challenge.
And if she wins it no one in her party can challenge her again for a year.
The size of the rebellion inside the Conservative Party and the anger of her allies in the Northern Irish Democratic Unionist Party indicate she will have trouble passing her Brexit deal, through parliament, even with significant support from Labour Party lawmakers.
If it fails the vote in parliament British politics will enter unknown territory and possibly a constitutional crisis.