'We were told he did not play a role', Trump says of MbS despite CIA conclusion
Comments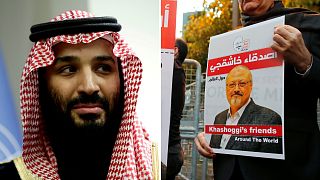 The US President continues to question Saudi Arabia's Crown Prince Mohammed bin Salman's role in Jamal Khashoggi's death, despite the CIA concluding Friday that MbS ordered his killing.
"As of this moment, we were told that he did not play a role," Trump told reporters outside the White House Saturday, as he prepared to fly to California and meet people affected by wildfires which have swept the state.
"We're going to have to find out what they say," he added, saying he had not been briefed yet on the matter.
Trump then went on to hail Saudi Arabia as a "great ally", saying "they give us a lot of jobs and a lot of business and economic development. They have been a truly spectacular ally in terms of jobs and economic development".
His comments aligned with a statement released by the US State Department Saturday which said "unanswered questions" remained concerning Khashoggi's murder and a "final conclusion" had not been made by the government, despite "inaccurate" media reports to the contrary.
Spokeswoman Heather Nauert added that the US would however pursue justice "while maintaining the important strategic relationship between the United States and Saudi Arabia".
Khashoggi, a Saudi Washington Post columnist and critic of Riyadh's royal family, was killed at the Saudi consulate in Istanbul on October 2.
The CIA's finding tying Saudi Arabia's de facto ruler to his death was disputed by the Saudi embassy in Washington Friday, who claimed their assessment was "false". They added: "We have and continue to hear various theories without seeing the primary basis for these speculations".