Losing darts player pins blame on 'opponent's smelly fart'
Comments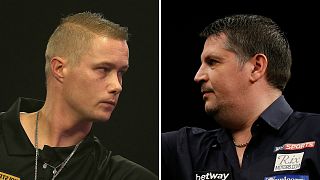 -
Wesley Harms 10-2 loss against two-time world champion Gary Anderson at a Grand Slam of Darts game in Wolverhampton, England, Thursday could have been due to a "fragrant smell" left by his opponent during the match.
The Dutchman told TV channel RTL7: "It'll take me two nights to lose this smell from my nose".
When confronted with the allegation by a post-match reporter, Scotsman Gary Anderson confirmed he also detected a waft of "rotten eggs" on stage but believed Harms was the one that dealt it.
Letting rip on his opponent, he said he thought Harms had soiled himself before breaking wind.
"I thought Wesley had farted on stage … I thought 'that's dirty' - it was bad, it was a stinker," he told RTL7. "I thought it was him and he started playing better, so must've needed to get some wind out".
The father-of-four swore on his children's lives that he did not produce the vile toot.
"If I'd farted and it smelled like that I'd put my hands up and go 'sorry' I need to go," he continued.
"It was table-side, it was eggs. Rotten eggs … and every time he walked past it was a waft of rotten eggs," he said of Harms.
Anderson is now headed to the semis after beating German Michael Unterbuchner 16-6 in the quarter-finals on Saturday.