Only one signature prevents this Spanish rescue boat from sailing into the Med
Comments
By Javi Julio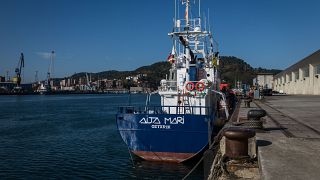 -
A Spanish migrant rescue ship has been docked for more than two months, waiting for authorities to grant it the last signature it needs to take to the Mediterranean Sea.
The Aita Mari boat, which underwent four months of work to be transformed from a fishing trawler into a humanitarian rescue ship, was given the go-ahead by the port authorities in Pasaia, near San Sebastian in northwest Spain, two months ago.
But it is yet to start its aid mission as it is still awaiting approval from the country's Merchant Navy office, part of the Ministry of Public Works, leading the owner of the boat to suspect the wait is politically-motivated.
The ministry rejected the criticism, arguing that it is still within the legal timeframe.
"We have until February 8, 2019 to give you a response. Engineers need time to check that the refurbishment has been properly carried out," it said.
But Inigo Mijandos, the president of the Salvamento Maritimo Humanitario (SMH) NGO who owns the boat, said that "other institutions could have said the same including the Mercantile Registry."
"They also have bureaucratic deadlines that could have delayed the start of the refurbishing for several months, yet they accelerated (their procedures) because of the type of boat this is.
"The Spanish administration has all the right in the world to observe their deadline, but this bureaucratic delay is costly in terms of human lives," he added.
100,000 sign petition
According to the NGO, more than 2,000 people have already lost their lives attempting to cross the Mediterranean this year.
In a report released in September, the UN Refugee Agency highlighted that although the number of people arriving in Europe had fallen the past two years, the rate of deaths has risen sharply, particularly in the Mediterranean Sea.
It called on nations bordering the sea to increase cooperation, but Mijangos accuses the European Commission of "looking the other way."
"Due to the obstacles they have faced, there is no NGO boat patrolling the area, so we have no news of what's happening. There are no witnesses.
"The death toll may be higher since the Libyan authorities do not even report when they intervene or when corpses are found at sea," he claimed.
The NGO has launched an online petition calling on the Spanish government to speed up its procedure and allow the boat to set sail. It has gathered more than 98,000 signatures.