Japan's new minister of cybersecurity has never used a computer — ever
Comments
By Alice Tidey & AFP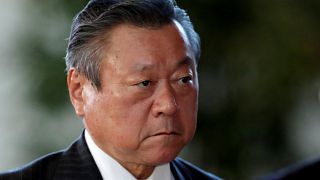 -
Copyright

REUTERS/Issei Kato/File Photo
Japan's cybersecurity minister prompted astonishment on Thursday after he revealed that he had never used a computer in his life. Not once.
"Since I was 25 years old and independent I have instructed my staff and secretaries. I have never used a computer in my life," Yoshitaka Sakurada, 68, told Japanase lawmakers.
Sakurada was appointed cybersecurity minister last month during a cabinet reshuffle by Prime Minister Shinzo Abe. He is also minister in charge of the Olympic and Paralympic Games to be held in Tokyo in 2020.
His confusion when asked whether USB sticks were used in the country's nuclear power stations also led to astonishment.
Opposition lawmaker Masato Imai said: "It's unbelievable that someone who has not touched computers is responsible for cybersecurity policies."
A criticism echoed by social media users, with one ironising on Twitter: "If a hacker targets Minister Sakurada, they wouldn't be able to steal any information. Indeed it might be the strongest kind of security!"
Sakurada is no stranger to political controversy. He labelled women forced into wartime Japanese military brothels was "prostitute by occupation" in 2016, for which he came under heavy criticism.
Last month, he told reporters he was "unaware" of any plans for North Korea's sport minister to attend a meeting in Tokyo, only to be quickly contradicted by an aide, who confirmed that he had been briefed.