360° report: Unprecedented retreat of glacier in Italian alps
Comments
By Elena Roda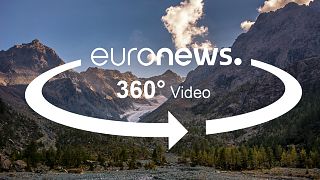 In this 360-degree video, you get the chance to join glacier researchers as they do their annual measurements on the Ventina glacier.
"This is an unprecedented retreat," Mattia Gussoni tells Euronews' Elena Roda as he glances up from his measurements at the Ventina glacier in the Italian Alps.
Gussoni is a researcher at the Glaciological Service of Lombardy. Every year, researchers from this scientific centre for glacier study update their measurements. They have been doing so since the end of the 19th century, and never has the loss of ice been so dramatic as this year.
The terminus, the endpoint of the glacier, has receded by 44 metres and lost five metres in thickness since last September.
The record-breaking retreat is not only another reminder that our climate is changing, it also has serious impacts on the surrounding areas that depend on water from the glacier during the summer.