Romania suitcase mystery: journalists 'under political pressure' after Dragnea claims
Comments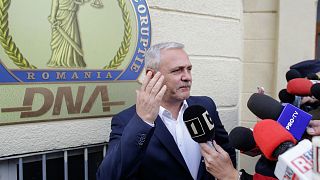 Investigative journalists who have published claims about Romania's most powerful politician say they've come under political pressure to reveal their sources.
The Bucharest-based RISE Project claims a suitcase full of documents links Liviu Dragnea to a road construction firm, Tel Drum, that has been accused of fraudulently obtaining public cash.
Dragnea, who heads up Romania's ruling Social Democrats (PSD), denies the allegations.
The suitcase was discovered by a peasant in a rural part of southern Romania and handed over to the journalists via an intermediary.
Romania's anti-corruption directorate (DNA) has already accused Dragnea of involvement in a €21 million EU funds fraud and setting up an organised crime group. DNA is also probing Tel Drum.
The offices of Tel Drum were raided last year by investigators and it is believed the suitcase was hidden in a field around this time, Paul Radu, an investigative journalist at RISE Project, told Euronews.
He said: "In this suitcase, which belonged to the main accountant of Tel Drum, we found a lot of documents, sketches and photos connecting Tel Drum with this politician and his family."
Radu and his colleagues have published a permit for a hunting trip to back-up this claim. It has Dragnea's name on it along with that of Tel Drum general manager Petre Pitis, also under investigation by DNA for the "unlawful awarding of European funds".
Rise Project has also published what purports to be an email exchange between Stefan Dragnea, son of Liviu, and Pitis, in which the former asked the latter for help in paying a debt.
Radu said the revelations have now prompted threats from a government agency, who called on them to hand over the data and reveal their source for the suitcase.
"On Thursday we got this threatening letter from Romania's data protection authority that sent us this summons under the GDPR law saying that we need to disclose our source and hand over the documents," said Radu, who claimed the agency had threatened the project with a €20 million fine. "I think there is political pressure and there has been pressure on us in the past."
Romania's Personal Data Protection Authority said in a press release it acted after being alerted to a "possible data protection violation".
But Radu has vowed he won't be handing anything over.
"We are investigative reporters; we'll never give out the data or talk about our sources," he said. "We'll take all the risks to safeguard the sources because that's in the best interests of the public."
Dragnea did not immediately respond to Euronews' request for comment on RISE Project's claims.
Romania is ranked one of the most corrupt members of the EU by Transparency International. 
The country has been rocked over the last two years by protests at what campaigners claim are politicians' attempts to decriminalise some corruption offences and weaken the judiciary.