Draft Brexit deal: Here's how politicians reacted
Comments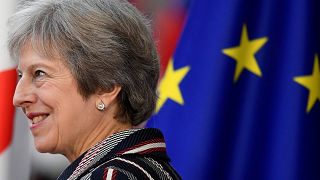 -
Copyright

REUTERS/Toby Melville/File Photo
The UK and the European Union announced on Tuesday evening that they have reached a draft Brexit deal.
Reactions were swift, although it is believed few have read the 500-page document.
Euronews recaps who's been saying what.
British Cabinet
So far, Cabinet ministers have stayed mute on the subject but they are scheduled to gather in Downing Street this afternoon. May has also already had one-on-one conversations with them to introduce the deal.
The Prime Minister needs her top team to approve the deal so it can then be sent to EU leaders, thus paving the way for a vote in the UK parliament — where resistance is expected.
Fears on May's side are that some of the most vocal within Cabinet — whether from the Leave or Remain camp — will wait until after the afternoon's meeting to resign in protest.
Conservative Brexiteers
Britain's ruling Conservative party has been split by Brexit. Staunch Brexiteers have repeatedly condemned May's approach and proposals during the negotiations and they did not deviate from the norm following the announcement.
Boris Johnson, who resigned from this role as Foreign Secretary in July in protest over May's Chequers proposals, told Sky News that it is "just about be as bad as it could possibly be."
He added: "The kicker is that we haven't really managed to protect the union between Great Britain and Northern Ireland" and said that "it is not, by any stretch of the imagination, acceptable."
Fellow leading Brexiteer, Jacob Rees-Mogg also condemned the deal, telling the BBC that: "This is the vassal state, it is a failure of the government's negotiating position, it is a failure to deliver on Brexit and it is potentially dividing up the United Kingdom."
"It is really hard to see any reason why the Cabinet should support with Northern Ireland being ruled from Dublin," he added.
Nigel Farage, an architect of the Brexit referendum, was a lot more concise but just as critical.
"Theresa May's Brexit agreement is the worst deal in history," he wrote on Twitter.
Conservative Remainers
Pro-Remain Conservative MP Justine Greening told a rally calling for a referendum on the deal on Tuesday evening: "Even if some people in my party can't see that this is a bad deal, everyone else around this entire planet can."
She said the deal will undermine the UK's credibility and lessen the country's influence, warning: "I'm not going to back something that is second best for this country."
Fellow Conservative MP Dominic Grieve, who defeated May's government by ensuring Parliament would get to vote on any Brexit deal, told the same rally that the deal was "utterly third-rate."
Jo Johnson — brother of Boris — who took a leaf out of his brother's book by resigning his Cabinet position last week to protest against May's Brexit strategy, said ministers were "looking deep into their consciences".
"We've got better choices as a country," he said.
Political leaders
Northern Ireland's Democratic Unionist Party (DUP), whose support May's minority government need to win the vote in Parliament, described the deal as "very, very hard sell."
In a statement, DUP leader Arlene Foster said: "our desire for a deal will not be suspended by a willingness to accept any deal."
Jeremy Corbyn, leader of the main opposition Labour Party said that "given the shambolic nature of the negotiations, this is unlikely to be a good deal for the country."
He reiterated his warning that Labour would vote against the deal if it fails to meet certain criteria.
Across the EU
Just like the British Cabinet, EU officials have so far kept quiet, so let's take a glance at what people are thinking across the bloc.
"Things are far from under control" German newspaper Die Zeit reported, while Die Welt highlighted that "The opposition against May's fragile Brexit deal is huge."
Les Echos is the only big French newspaper to splash on Brexit on its front page, writing "May gambles everything on her Brexit project."