Italian journalists called 'whores' by Five Star Movement | Raw Politics
Comments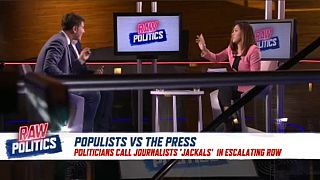 Italy's anti-establishment Five Star Movement (M5S) came under fire by journalists after the party leaders labelled those working in the profession as "jackals" and "whores".
Protests mounted in Rome over the comments made by Deputy Prime Minister Luigi Di Maio.
M5S, which is in a ruling coalition with the far-right League, has threatened to cut funding for publishers and bring in new conflict-of interest laws.
"We would never use those words with real journalists. Journalists who find and search the truth are always defended by us," MEP from the Five Star Movement, Ignazio Corrao, told Raw Politics.
Adding there is "no free press in Italy", Corrao cited politicians such as the former Prime Minister Silvio Berlusconi as owning media organisations as one of the issues affecting press freedom.
Euronews' political editor Darren McCaffrey joined the discussion. Watch it in the video player above.