China shows off stealth planes that could knock America's best out of the air
Comments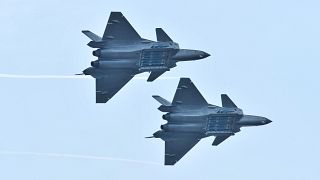 China have publicly unveiled two new stealth fighter jets for the first time as part of their largest biennial air show, according to the Beijing-based Global Times newspaper.
The J-20 crafts opened six bay doors for short and long-range missiles as part of a striking display on Monday in which a team of jets conducted flypasts and released streams of colour during the demonstration in the city of Zhuhai, Guangdong province.
The planes, developed by China's Chengdu Aerospace Corporation for the People's Liberation Army Air Force (PLAAF), represent Beijing's foray into stealth aircraft engineering.
US officials believe the jets were manufactured to compete with the F-22 Raptor flown by the US Air Force. The tactical fighter craft made its combat debut in 2014 against so-called Islamic State militants in Syria.
Citing Chinese experts, the Global Times said the display was a show of confidence from the PLA and displayed the J-20's superiority to the F-22 and F-35 US fighter jets.