Polish leaders hold joint march with nationalists on 100th anniversary of Independence Day
Comments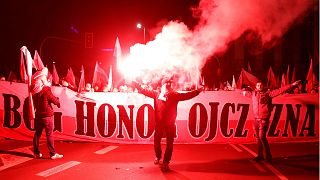 Around 200,000 people, including Poland's leaders and nationalist groups, marched through Warsaw on Sunday to mark the 100th anniversary of Polish independence.
The joint march is a focus of debate about whether the ruling Law and Justice Party (PiS) tacitly encourages groups with roots in the fascist and anti-Semitic movements.
Government officials walked at a distance from the main marchers and away from any overt displays of nationalism.
Several hundred metres behind the leaders, participants held banners saying "God, Honour, Homeland," and launched red flares.
Some chanted: "Pride, pride, national pride" and "Poland should be national, not red or rainbow-coloured", in a reference to the red flag of the Soviet Union and the flag symbolising gay pride.
"Thank you for coming here, for Poland, and for bringing the white and red (Polish) flag which saw our fathers, grandfathers and great-grandfathers spill their blood," President Andrzej Duda, a PiS ally, said at the start of the march.
Far-right groups and neo-fascist activists from Italy also joined the procession.
Hours before the march Duda presided over a state ceremony marking the country's rebirth as a nation in 1918 after being wiped off the map for 123 years.
Doubt was cast over whether planned celebrations to mark the centenary of Polish independence would go ahead amid concerns the event could be marred by violence between the far-right nationalists and counter-protesters.
Warsaw's mayor last Wednesday announced a ban on the far-right march, but a Polish court overturned it, citing constitutional rights of freedom of assembly.
Security fears were amplified by a mass walk-out of police officers over pay in the days leading up to the centenary.
Last year, the annual far-right march was dotted with racist banners such as "Pure blood, clear mind" and "Europe will be white or uninhabited".
On November 11, Poles commemorate the establishment of the second Polish republic in 1918 from territory seized by its eastern and Western neighbours in the 18th century, made possible by the defeat of Russia, Germany and Austria in World War One.