Raw Politics: a look back at this week's best bits
Comments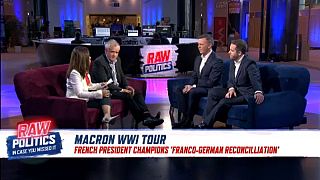 In case you missed it take a look back at the week's Brussels coverage on Raw Politics.
Why is the EU picking a fight with the US over new sanctions? And remarks from French President Emmanuel Macron describing Marshal Philippe Pétain as a "great soldier" in the World War I before he went on to make "dire choices" during World War II have been met with outcry.
As whispers of a deal inching closer whistle through Europe, Brexit was under the spotlight again after a memo was leaked to HuffPost UK which appeared to outline a timetable for how UK Prime Minister Theresa May plans to sell her Brexit deal to the public.
Presented by Tesa Arcilla from the Agora studio of the European Parliament in Brussels, Raw Politics is designed to fulfil Euronews' promise to provide "All Voices, All Views, All Welcome".
It poses hard-hitting questions on the issues that define and divide Europe through impactful interviews, passionate debates and expertise from our correspondents. Guests will come from all over the political spectrum.