Watch: Italian king celebrates WW1 peace treaty with Austria-Hungary
Comments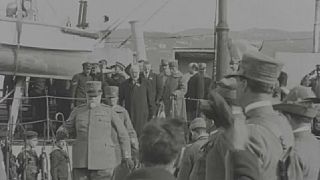 Rare footage has been released of Italy's King Vittorio Emanuele III landing in the Friuli Venezia Giulia region in northeast Italy after a World War I peace treaty with Austria-Hungary was signed 100 years ago this month.
The king arrived on what was then called the port of Molo San Carlo, which was later renamed Molo Audace in honour of the first ship of the Italian Navy to arrive in Trieste. 
Italy lost almost 750,000 soldiers in WW1, which ended for the country on November 4, 1918, when the ceasefire that followed the Armistice of Villa Giusti began, 
To mark the centenary this year, Italy's President Sergio Mattarella paid homage to the Italian soldiers who had fought in the ranks of the Austro-Hungarian army.