Macron under fire for calling Nazi collaborator a 'great soldier' | Raw Politics
Comments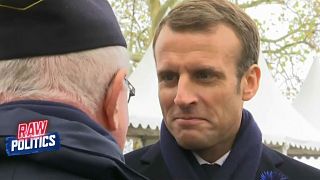 Remarks from French President Emmanuel Macron describing Marshal Philippe Pétain as a "great soldier" in the World War I before he went on to make "dire choices" during World War II have been met with outcry.
Pétain led the French to victory at the Battle of Verdun in World War I but subsequently collaborated with the Nazis during World War II.
Speaking ahead of this weekend's Armistice commemoration, Macron said: "I consider it entirely legitimate that we pay homage to the marshals who led our army to victory. Marshal Pétain was a great soldier in World War One."
The Elysee Palace has since insisted there are no plans to pay tribute to the soldier with the president's office and a government minister both saying Pétain would not be included in Saturday's planned ceremony at the Invalides paying tribute to French generals.
Watch today's Raw Politics panel discuss reactions to Macron's comments in the player above.