Watch: Children from poorer families less likely to play instruments — study
Comments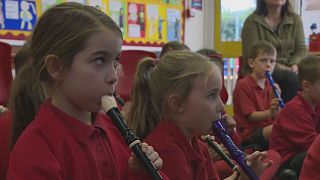 Children from lower-income households are half as likely than those from affluent families to learn a musical instrument, according to new research by the UK Musicians' Union.
This, in turn, means lower income families are at risk of being under-represented in the music industry, the union said.
For younger children music is compulsory on the UK national curriculum until they are 14 years old.
But many state schools and parents simply can't afford the specialist staff needed for one-on-one tuition.
The Musicians' Union research found that families with lower incomes have a 19% chance of a child learning an instrument.
For children from richer families that figure doubles to 40%.
The union is calling on the government to help state schools offer more lessons for budding musicians and give music as much weight as other subjects.