Brazil to move embassy from Tel Aviv to Jerusalem
Comments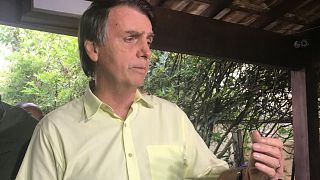 Brazil's far right president-elect Jair Bolsonaro says he sees no problem in moving the country's embassy from Tel Aviv to Jerusalem.
Bolsonaro confirmed the move in a tweet, saying "Israel is a sovereign state and we shall duly respect that".
President-Elect Jair Bolsonaro says, "I don't see any tension with the transfer decision. I don't see any problem"
Meanwhile, Israel's Prime Minister Benjamin Netanyahu said in a tweet that moving the Brazil Embassy "was an historic, correct and exciting step."
Officials in the Bolsonaro camp confirmed the country's next president is due to visit Israel next year.
Bolsonaro adds, "We don't want to raise a dust cloud here that will harm talks that we're having with the rest of the world. Israel knows the respect that we have for them and the Arab people. And we are going to pacify this issue for sure."
The status of Jerusalem is one of the thorniest obstacles to a peace deal between Israel and the Palestinians. Brazil would become the third country to move its embassy to Jerusalem after the US and Guatemala.