'Game of Thrones' stars, network react to Trump's 'sanctions are coming' tweet
Comments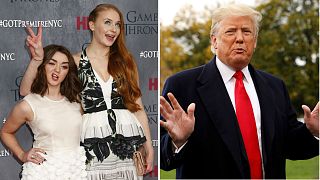 Stars of 'Game of Thrones' and its network have reacted to a tweet by US President Donald Trump in which he used imagery and language from the hit show to promote upcoming sanctions against Iran.
Following the announcement that his administration would reinstate all US sanctions on Iran lifted under the 2015 nuclear deal, Trump shared an image of himself on Twitter featuring a text overlay saying: "sanctions are coming".
The statement was a reference to the show's famous "winter is coming" slogan, with the font of the text mimicking the style used by the popular fantasy series.
TV network HBO responded to the tweet, writing on Twitter: "How do you say trademark misuse in Dothraki?" in reference to a fictional language in "Game of Thrones".
In a separate statement, HBO said it "would prefer our trademark not be misappropriated for political purposes."
The show's stars also reacted to Trump's tweet, with actresses Maisie Williams and Sophie Turner responding with tweets that read "Not today" and "Ew".
The tweet came just days after Pharrell Williams sent a legal warning to Trump over the use of his song "Happy" at a political rally on Saturday.
The event was held hours after 11 people were killed in a shooting at a synagogue in Pittsburgh, and a letter issued through Pharrell's lawyer noted that there was nothing "happy" about the tragedy and that "no permission was granted" to use the song.