Russia imposes financial sanctions on Ukraine's political elite
Comments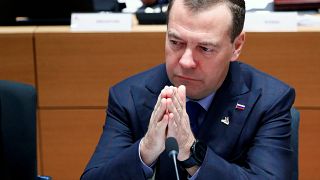 -
Russian Prime Minister Dmitry Medvedev has signed a decree imposing financial sanctions on Ukraine's political elite, freezing their property and financial assets in Russia, and blocking them from repatriating their resources to the Ukraine. Hundreds of politicians and officials, as well as dozens of Ukrainian-owned businesses are said to be targeted.
The decision is described as tit-for-tat sanctions in response to similar measures taken by the Ukraine against Russian individuals and companies.
According to Andrei Movchan, economy expert at Carnegie Moscow Center: "These sanctions are a diplomatic response measure, they will hardly affect the economy (of both countries). The Kremlin admits that the sanctions are introduced as a response to Ukraine's sanctions against Russia and some Russian personalities. Russia has no interest in the companies which are on the sanctions list. So the sanctions won't affect the economy."
The list includes President Petro Poroshenko's son Olexiy, presidential contender and former PM Yulia Tymoshenko, the head of Ukraine's SBU security service Vasil Hrytsak, interior minister Arsen Avakov, and billionaire tycoon Victor Pinchuk.
Ukrainian President Petro Poroshenko said today that being on the list is like receiving an award, adding that "those who did not make it to the list are very offended."
Relations between Kiev and Moscow have deteriorated since Russia's 2014 annexation of Crimea and the uprising of a pro-Russian separatists in eastern Ukraine.