Spanish police bust 'black magic' sex trafficking ring
Comments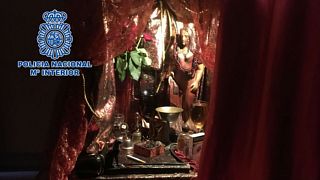 Spanish police say they have rescued 15 young Brazilian transsexuals in the southeastern city of Murcia from a sex trafficking ring, which forced them into prostitution through physical abuse and threats of black magic.
In a statement on Wednesday, the Spanish national police said the victims were transferred to Spain "by trickery" and then forced into prostitution.
The victims were made to sell and consume drugs and sometimes locked in a flat where they were "subjected to continuous serious threats and even physical aggressions".
Items relating to black magic and the ritual-filled Santeria religion were confiscated and were believed to have been used "to coerce" the victims, the statement added.
Police said the group was headed by a Brazilian national who worked with associates to recruit vulnerable youths.
The investigation began when one of the victims filed a complaint at a police station in Murcia, saying their entry to Spain had been arranged in exchange for a large debt, which they were forced to pay back with prostitution, the statement said.
Thirteen people, aged between 19 and 60, were arrested in connection with the sex trafficking ring, including Colombian, Brazilian, Peruvian, Spanish and Romanian nationals.
Four of the suspects have been jailed as the investigation continues, while the remaining nine were released on bail.