PMQs get fiery as May defends economic record | Raw Politics
Comments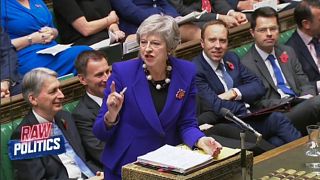 British Prime Minister Theresa May was met with a chorus of shouts from opposition politicians in parliament as she defended her government's economic record during prime minister's questions.
"The Labour benches want to know what's gone up, I'll tell them what's gone up," May said to shouts from opposing MPs.
"As long as it takes I'm going to tell you," the prime minister warned, before stating that support for public services, growth and wages have all gone up under her government.
Find out what the Raw Politics panelists thought about the fiery display by clicking on the player above.