Should taxpayers be paying for electric scooters for MEPs and EU staff? | Raw Politics
Comments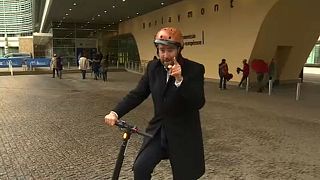 MEPs and EU staff will have free use of new electric scooters to make going between Brussels institutions easier.
A new trial will see 15 of the €500 devices appear around the European Commission and European Parliament.
But as the walk between both buildings is just 15 minutes, questions have been asked about whether it's a good use of taxpayers' money.
Take a look at the video above to see Darren McCaffrey, Euronews' political editor, take a scooter for a spin around Brussels. He then sits down with guests on Raw Politics to discuss whether they are a good move.