James 'Whitey' Bulger dead: Notorious Boston mob boss found dead in West Virginia prison
Comments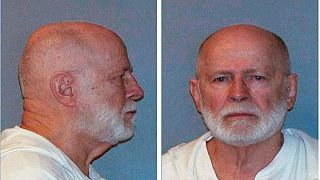 Notorious Boston gangster James "Whitey" Bulger was found dead at a federal prison in West Virginia Tuesday — on the morning after he arrived — and the FBI has launched an investigation, federal officials said.
Bulger, 89, was found unresponsive about 8:20 a.m. at the high-security penitentiary USP Hazelton in West Virginia, according to a Justice Department statement.
"Life-saving measures were initiated immediately by responding staff," the statement said.
But Bulger was subsequently pronounced dead by the Preston County Medical Examiner, the Justice Department said.
No other staff or inmates were injured, officials said. Bulger had arrived at the West Virginia prison on Monday.
Reached outside his home, Bulger's brother John told NBC News that he had yet to hear from any prison or federal officials about his sibling's death.
The FBI and the US Attorney's Office in the Northern District of West Virginia has opened a probe into the death, officials said.
The feared former leader of the Winter Hill Gang, Bulger was convicted in 2013 of participating in 11 murders stretching from Massachusetts to Florida to Oklahoma.
Bulger was serving a life sentence.
He was previously relocated from a Florida prison to a facility in Oklahoma. Though Bulger is known to have medical ailments, it's not clear why he was on the move, the Boston Herald reported.
Bulger had spent 16 years as one of the nation's most wanted fugitives before he was captured in Santa Monica in 2011.
Bulger was arrested with his girlfriend, Catherine Greig. Greig, now 67, pleaded guilty in 2012 to identity fraud and harbouring Bulger. She remains locked up at a federal women's prison in Minnesota.
In 2014, Bulger was transferred out of a high-security prison in Arizona over concerns about his relationship with a female psychologist who was counselling him, according to the Boston Globe.