Spending rises in 'end-of-austerity' UK budget: Key points at-a-glance
Comments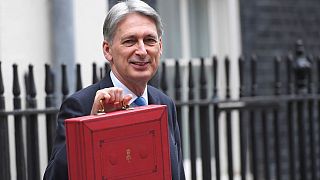 Britain's finance minister has delivered his 2018 Autumn Budget — his final one before Britain leaves the European Union in March.
Philip Hammond, announcing the UK's spending plans for the forthcoming year, said British people's hard work had paid off.
However, opposition leader Jeremy Corbyn claimed austerity had failed and that the country's health had borne the brunt.
Key announcements
Brexit
There will be an additional £500 million (€562 million) allocated for no-deal Brexit planning.
The Royal Mint will launch a 50p Brexit coin which will be available to buy from Spring 2019 after Britain leaves the EU.
Economic growth
Growth going forward will be "resilient," said Hammond, upgrading OBR (Office for Budget Responsibility) forecasts for 2019 to 1.6%, up from 1.3% forecast in the Spring Statement.

In 2020, he expects 1.4%, 1.5% in 2021 and 2022, then 1.6% in 2023.
Borrowing
Borrowing this year will be £11.6 billion (€13 billion), which was lower than forecast in the Spring Statement. National debt peaked at 2016/17 at 85.2% of GDP.
Spending
Hammond has pledged £1.6 billion (€1.80 billion) of new investment for industrial strategy.
Defence
Hammond pledged to give an additional £1 billion (€1.12 billion) this year and the following year to the Ministry of Defence's budget in order to boost the UK's cyber capabilities and anti-submarine operations.

He also announced an additional £160 million (€179 million) to be spent on counter-terrorism in 2019/20.
Plastic
Hammond pledged a "package of measures" that aims to help the environment.

He will provide £10 million (€11.2 million) to deal with abandoned waste sites.

He will introduce a new tax on the manufacture and import of plastic packaging that contains less than 30% recycled plastic.

He will not introduce a levy on plastic cups after concluding that a tax in isolation would not deliver a decisive shift in people swapping disposable for reusable plastic.
Universal credit
The Chancellor announced an extra £1 billion (€1.12 billion)
to help welfare claimants transfer to the new consolidated benefit
Introduced in 2013, Universal Credit is intended to replace and simplify the administration of six pre-existing means-tested government benefits, including jobseeker's allowance and housing benefit.
NHS
Prime Minister Theresa May has already pledged an extra £20.5 billion (€23 billion) a year in funding for the NHS by 2023.