Georgia tops judo medals table with three golds after final day of thrilling Abu Dhabi Grand Slam
Comments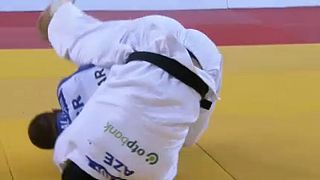 As the sun set on the third and final day of the Abu Dhabi 2018 judo Grand Slam, Russia's Inal Tasoev stole the show as our Man of the Day. He defeated Czech Olympic Champion Lukas Krpalek in the over 100kg final, with Russia's premier heavyweight taking the biggest win of his career.
In the opening exchange of the contest Tasoev countered the Czech athlete to take the first Grand Slam gold of his career. And in a wonderful sporting moment, there was a great display of judo etiquette as the two men came together in the centre of the mat at the end of the contest.
''Yes, this is my first medal in a grand slam and before this I took my first gold medal in a Grand Prix. I've never fought in a Grand Slam. You know, I didn't expect to win. It was very surprising for me, but I managed to win, and I'm very happy,'' Inal Tasoev said in an interview.
Woman of the Day
Our Woman of the Day was Guusje Steenhuis of The Netherlands. She met number two seed Natalie Powell of Great Britain in the -78kg final. 
As predicted by the seedings, World number one Steenhuis reigned supreme. She threw with a winding maki-komi attack, resulting in a waza-ari lead to win her the contest and a place on top of the podium.
''I always like the left vs left fights, the high left vs left fights. I can really get my best gripping patterns and I think, because I moved a lot, yeah, it felt comfortable and strong. So it was really nice to feel,'' said Guusje Steenhuis in an interview.
European Champion Mikhail Igolnikov of Russia countered Hungary's Krisztian Toth to win the under 90kg gold.
The Düsseldorf Grand Slam winner added the Abu Dhabi title to his collection by edging out his Hungarian rival by a waza-ari score to win Russia's first gold medal in the U.A.E.
Female heavyweight champion
Budapest Grand Prix silver medallist Maryna Slutskaya of Belarus topped the podium in the heaviest female category, +78kg. 
Slutskaya threw with an explosive drop shoulder throw for ippon against France's Anne Fatoumata M Bairo, earning a first Grand Slam title for her.
IJF General Treasurer Mr. Nasser Al Tamimi presented Slutskaya with her gold medal.
Second gold for Israel
Peter Paltchik won Israel's second gold of this year's tournament. In the under 100kg final he threw Elmar Gasimov of Azerbaijan with a dropping sode-tsurikomi-goshi attack, scoring waza-ari.
Move of the Day
Serbia's Aleksandar Kukolj earned today's move of the day with a stunning piece of ashi waza, catching his opponent by surprise, and earning himself an -90kg bronze medal in the process.