Watch the 'mosquito-repelling' song that got Britain's royal couple laughing
Comments
By Reuters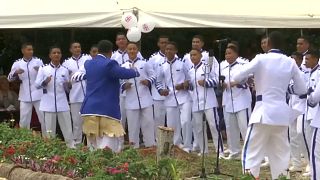 Britain's Prince Harry and his wife Meghan were treated to a performance of a 'mosquito-repelling' song in Tonga.
The pair seemed to thoroughly enjoy the performance by a high school choir which was said to keep insects at bay.
Afterwards, Harry gave a speech about the importance of conservation to an audience of local dignitaries in Tongatapu before leaving to meet the island's King Tupou VI
The royal couple are on a tour of Australia and the south Pacific.