Europe briefing: Seven stories to know about today
Comments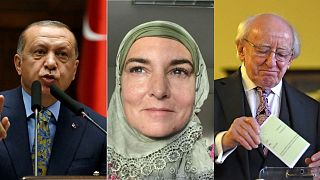 `1. Erdogan asks Saudis where Khashoggi's body is
Turkish President Recep Tayyip Erdogan on Friday called on Saudi Arabia to disclose the location of the body of slain columnist Jamal Khashoggi.
Erdogan said Turkey had more information about the case than it has shared so far, as he called on Riyadh to reveal the identity of the "local cooperator" who allegedly took Khashoggi's body from Saudi agents after he was killed on October 2.
2. Greece jolted by powerful earthquake
An earthquake with a magnitude of at least 6.4 struck Greece early on Friday, causing minor damage.
The epicentre of the quake was some 50 kilometres south of the island of Zakynthos, according to Greece's Geodynamic Institute.
It was felt as far away as Albania, Italy, Libya and Malta.
3. Ryanair issues statement on racist video
Ryanair issued a statement on Friday in response to criticism it has faced for not removing a white man who refused to sit next to a black woman on a flight from Barcelona to London last week.
In the statement, Ryanair stressed that it only became aware of the video of the incident last Saturday and immediately reported it to police.
"We again extend our very sincere apologies to this passenger for the regrettable, and unacceptable remarks that were made to her by an adjacent passenger, and we believe that by reporting this matter immediately to the Essex Police and by apologising in writing to this customer early on Sunday morning, Ryanair treated it with the urgency and seriousness it warranted," the airline's head of communications, Robin Kiely, said.
"We trust that this statement will address the inaccurate media coverage of this incident over recent days, and that the legal rights of both passengers will be respected, while the Police services in Essex and Barcelona conduct their investigation of this matter, with Ryanair's full cooperation and assistance."
4. Floods kill six people in Russia
Floods have killed at least six people near Russia's southern Black Sea coast, Interfax and other news agencies reported on Friday.
At least one other person was still missing after the floodwaters were unleashed by torrential rain on Wednesday, Interfax added.
5. Sinéad O'Connor converts to Islam
Irish singer-songwriter Sinéad O'Connor — who was once ordained as a Catholic priest — says she has converted to Islam.
In a statement on Twitter, O'Connor described the decision as the "natural conclusion of any intelligent theologian's journey."
"All scripture study leads to Islam. Which makes all other scriptures redundant," she wrote.
The singer said she has adopted the new name Shuhada.
6. Ireland votes in referendum on blasphemy law
Irish voters headed to the polls for a referendum on removing the offence of blasphemy from the constitution.
The referendum, which takes place on the same day as the presidential election, asks the public whether to remove the word "blasphemous" from Article 40 of the constitution, which reads: "The publication or utterance of blasphemous, seditious, or indecent matter is an offence which shall be punishable in accordance with law."
No one has ever been prosecuted under the blasphemy law.
7. EU investigates Ryanair deal with Frankfurt-Hahn airport
The European Commission announced on Friday that it has opened an in-depth investigation into marketing and financial deals between Ryanair and Germany's Frankfurt-Hahn airport to assess whether it constituted illegal state aid.
Under the deal, Ryanair received between 2009 and 2017 training aid and funding for a crew and pilot school and for a maintenance hall, the Commission said.
"We will investigate whether regional and local authorities in Germany, against the rules, gave an unfair advantage to Ryanair over its competitors," EU Competition Commissioner Margrethe Vestager said in a statement.