Big earthquake near Greece felt as far away as Italy and Libya
Comments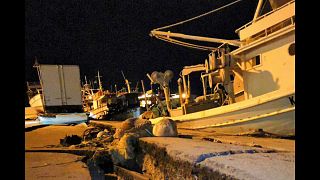 Greece appears to have escaped relatively unscathed after a powerful earthquake struck in the early hours of Friday.
The tremor — which had a magnitude of at least 6.4 — was felt as far away as Albania, Italy, Libya and Malta, reports Reuters.
Its epicentre was 50 kilometres south of the island Zakynthos, according to Greece's Geodynamic Institute.
Three people were taken to hospital, a spokesman for Greece's civil protection agency told Reuters.
''The earthquake happened exactly where the two lithospheric plates of Africa and Europe meet," said Efthimios Lekkas, professor of geology at the University of Athens.
"It is part of the normal seismic activity of the area, and I think that the residents and the houses behaved excellently in this case.
"The houses and the infrastructure are constructed in a way that they can withstand an even bigger earthquake.
"We are expecting a big afterquake of up to 5.7 magnitude but it will be much smaller than the main quake.''
The earthquake led to brief power cuts on Zakynthos. Mudslides also damaged some roads, firefighters said.
"We are not facing any particular problems," Zakynthos Mayor Pavlos Kolokotsas told Greek state broadcaster ERT. "Calm is being restored."