Europe briefing: Five stories to know about today
Comments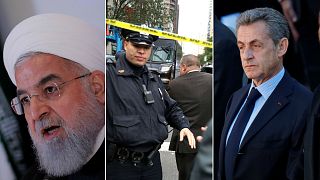 US investigators find eight, possibly nine suspect packages sent to public figures
At least seven political targets in America have been sent suspected explosive devices through the post this week in what New York mayor Bill de Blasio described as "an act of terrorism."
Two suspicious packages addressed to US Democrat Maxine Waters were identified by the FBI late on Wednesday, bringing the total number of suspected package bombs found up to eight.
Federal investigators revealed they were also seeking a package addressed to Democrat and former Vice President Joe Biden. On Thursday, reports emerged that another suspect package may have been sent to a restaurant owned by Hollywood actor Robert De Niro.
Iran: 'US knew of Khashoggi murder plot before he died'
Iran has weighed in on the controversy surrounding the "heinous" death of Saudi critic and journalist, Jamal Khashoggi, saying the US must have been aware of the plot beforehand.
Speaking to his Cabinet on Wednesday, Iran's President Hassan Rouhani said of Saudi Arabia: "I don't think such a country would dare commit such a crime without the protection of America.
"I think that the power that emboldened them to commit such a crime and supporting them today is more condemnable than those who have committed this crime."
His comments came as Turkish authorities looking for Khashoggi's remains were temporarily blocked by Saudi officials from examining a well at their consulate building in Istanbul where he died on October 2.
Court rejects Sarkozy appeal in 'Bygmalion' affair
Former French President Nicolas Sarkozy's appeal to prevent him being sent to trial on charges of illegal campaign financing has been rejected by a Paris court.
Sarkozy has been accused of conspiring with a PR firm to hide the true cost of his 2012 presidential campaign, which broke legal spending limits.
The company, Bygmalion, allegedly invoiced Sarkozy's political party instead of the campaign, allowing him to bypass the restrictions.
Sarkozy denies wrongdoing.
NATO launches biggest military drill since Soviet Union's collapse
The Western military alliance is launching their largest military drill since the end of the cold war tonight.
Beginning Thursday, the Trident Juncture exercise includes 50,000 troops, 10,000 vehicles, 250 aircraft, and 65 ships, and will run until November 24. All 29 NATO allies are participating, including allies Finland and Sweden.
"This is a strong display of our capabilities," NATO secretary general Jens Stoltenberg said Wednesday in Brussels. "In recent years, Europe's security environment has deteriorated significantly. NATO has responded".
May 'unites party' amid Brexit struggles
UK Prime Minister Theresa May has reportedly brought her party back together after speculation mounted in recent days that Conservative members were preparing to challenge her leadership.
May had been addressing her MPs at a private committee meeting about the ongoing Brexit talks with the EU, insisting she had won some concessions from the bloc's negotiators.
Former minister Amber Rudd told the BBC "she was able to win the room, despite being frank about difficulties still there".
Basildon MP John Baron added "the mood was 'let's get behind the PM and get this over the line'".
As it happened on Thursday, October 25
This is how we covered key developments this morning: