Saudi crown prince says 'justice will prevail' over Khashoggi case
Comments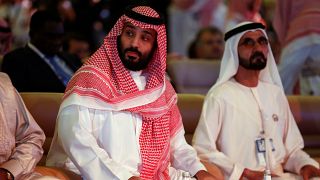 Saudi Arabia's Crown Prince has broken his silence on the killing of the journalist Jamal Khashoggi, saying "justice will prevail".
Appearing on a discussion panel at the Future Investment Initiative conference in Riyadh, Mohammed bin Salman said all culprits would be punished, and that Saudi Arabia and Turkey would work together "to reach results".
Bin Salman said: "The crime was really painful to all Saudis, it is a heinous crime." 
"They will not be able to divide us as long as there is a king called King Salman bin Abdul Aziz and a crown prince named Mohammed bin Salman, and a president in Turkey named Erdoğan," he added.
His remarks follow US President Donald Trump's comments to the Wall Street Journal that he wanted to believe the prince when he said that lower-level officials were to blame for the killing at the Saudi Consulate.
However, Trump suggested the crown prince could have been involved in the operation to kill the journalist: "Well, the prince is running things over there more so at this stage, he's running things and so if anybody were going to be, it would be him."
A number of political figures and businesses pulled out of the conference amid global outrage over the dissident journalist's death.
The kingdom has blamed a "rogue operation" for Khashoggi's death and said the crown prince had no knowledge of the killing.
However, one of Turkish President Tayyip Erdogan's advisors said Prince Mohammed had "blood on his hands", in the bluntest comment yet from someone linked to Erdogan.
Bin Salman also said at the conference he predicts the economy will grow by 2.5% this year through reforms and spending on infrastructure.
However, that figure could be impacted by the global threat of sanctions on the kingdom over the Khashoggi case.
France warned on Wednesday that it could impose sanctions on Saudi if its intelligence services establish the kingdom is behind the murder.