Teen brings books to class in a microwave after school bans rucksacks
Comments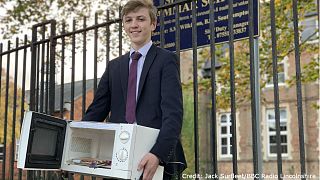 Copyright

Credit: Jack Surfleet/BBC Radio Lincolnshire
When a UK boy's school banned large rucksacks, he responded by bringing his books to school in a microwave.
Jacob Ford, 17, from Lincolnshire in the East Midlands of England, took the stand after his school reportedly banned six formers (students aged 17 and 18) from carrying large backpacks to lessons.
The rule at Spalding Grammar School, which was originally only for students aged 11-16, was implemented for health and safety reasons, according to local website LincolnshireLive, and students would now have to carry their books between classes instead.
Ford said the school adopted the ban as year sevens (age 11) and one member of staff "have been struck in the face or knocked backwards by our bags swinging around in the corridor."
"I do not doubt this ever happening but is the best solution really to outright ban backpacks?" he added. "Surely a compromise can be made."
His action formed part of a week-long "peaceful protest" during which he brought his books to school in various items, including a wicker basket, a saucepan, sandwich bags attached together with a padlock, the back end of a lawnmower and finally the microwave.
Local newspaper Spalding Today reported that he was excluded from the school for two days last Friday when he refused to hand over his mobile phone during the protest.
Prior to his protest, the teenager wrote a 3,300-word document titled "Bags in Sixth Form — my thoughts and a potential solution" explaining why he thought the ban was a "ridiculous rule change", according to BBC Radio Lincolnshire.
A petition created days after the rule was introduced, was also purportedly taken down by the school, despite attracting 463 signatures, according to local media.
For Ford, his protest was about the financial and health implications of the new rule.
"I believe that paying for a new bag which fits the school's updated regulations is outrageous, especially this close to the start of the academic year, when many students have recently paid for new rucksacks, not knowing of the rule changes," he told LincolnshireLive.
"The ban of backpacks leads to the question of whether the school is trying to make us have worse 'physical development' for suggesting we do not use these types of bags," he added.
Euronews has reached out to Spalding Grammar School for comment.