Investigators focus on Florida in suspicious packages inquiry
Comments
By
Claire Heffron
&
Emma Beswick, Cristina Abellan Matamoros
with
NBC, Reuters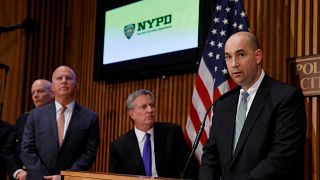 -
The investigation into 10 pipe bombs sent to high-profile Democrats and critics of US President Donald Trump is focusing on leads in Florida, a federal law enforcement source said on Thursday.
All the suspicious packages were believed to have gone through the US Postal System at some point, the source said.
Many of the packages had the return address of the Florida office of US Representative Debbie Wasserman Schultz, who formerly chaired the Democratic National Committee, according to the FBI.
Former Vice President Joe Biden and actor Robert De Niro on Thursday became the latest intended targets of the bombs, none of which exploded.
One package was found Thursday morning at a postal facility in New Castle, Delaware, the second in Wilmington, Delaware.
Late on Wednesday, authorities said they believed there was a package somewhere in the system addressed to Biden.
Police said earlier on Thursday that they were investigating a further suspicious package in Tribeca, NYC, at Robert De Niro's Tribeca Grill restaurant, according to NBC.
An initial assessment showed this package matches other suspect packages sent yesterday, a law enforcement official told NBC.
There was no need to evacuate the building as it was unoccupied, the Office of the Deputy Commissioner, Public Information (DCPI) said.
At least seven political targets in America on Wednesday were sent suspected explosive devices in what New York mayor Bill de Blasio described as "an act of terrorism."
Packages addressed to former First Lady Hillary Clinton and former US President Barack Obama, alongside others to New York governor Andrew Cuomo, former attorney general Eric Holder, Congresswoman Debbie Wasserman Schultz, and former CIA director John Brennan have been found to contain devices feared to be bombs. Financier George Soros also received a similar device at his residence earlier this week.
A US federal official said Wednesday they were also trying to track down a suspicious package addressed to former Vice President Joe Biden.
What we know about each case
Packages for Hillary Clinton and Barack Obama
A package addressed to Clinton was intercepted by US Secret Services late on Tuesday while the one to Obama was seized early on Wednesday. Both packages were recovered during routine mail screenings, said a US Secret Service statement.
"The packages were identified as potential explosive devices and were appropriately handled," it said.
At a news conference, Washington DC police chief, Peter Newsham, said that the package destined for Obama was found at a screening facility before ever making it to his home. He added his department would be working with the FBI and the Secret Service to find the person responsible for sending the explosive.
Speaking at an event in Florida, Clinton said she and her family were fine.
George Soros
A similar package was sent to the Soros' home in the New York suburb of Bedford earlier this week.
Law enforcement told NBC 4 New York that the device contained explosive powder.
Three senior law enforcement officials told NBC News that the return address name on the packages sent to Clinton, Obama, and Soros belonged to Wasserman Schultz. However, there is no suggestion that she sent the packages.
Evacuation at Time Warner building
Later on Wednesday, the Time Warner building in New York City, where the CNN newsroom is based, was evacuated after police found a live explosive device and an envelope containing white powder in the newsroom's mail room, said Police Commissioner James O'Neill during a press conference.
The white powder was still being analysed to determine whether it was a dangerous substance.
Officials said the package was addressed to former CIA director John Brennan, who's criticised US President Donald Trump in the past.
Intercepted device in Florida
Police and bomb squads in Sunrise, Florida, also evacuated the building housing Wasserman Schultz' office after a suspicious package arrived in the mail, said local police in a tweet.
CNN said the package was meant for Holder but returned to the congresswoman's office because it had the wrong address.
Chris Piper from the Sunrise Police Department said the bomb squad would make the package "safe" for delivery to the FBI who will be taking it to their laboratory for further examination.
Another office belonging to the congresswoman in Aventura, Florida, is being searched by police after receiving a suspicious package.
Cuomo and Holder also victims
During a press conference about the device discovered at CNN, Governor Andrew Cuomo said that a device had also been sent to his office.
However, Cuomo's spokesperson later told NBC that the governor had not received a device in the mail. What was thought to be a potentially explosive item was, in fact, a letter complaining about the appearance of the far-right group The Proud Boys in New York.
Officials told NBC News that a package similar to the others was addressed to Holder but that it was intercepted before it was delivered.
California Congresswoman Maxine Waters
Capitol Hill police said they intercepted a suspicious package addressed to Waters, according to NBC.
The package was intercepted at a processing facility that handles mail going to the Capitol.
The FBI is involved in the investigation.
California Senator Kamala Harris
The building housing the office of Harris was evacuated after a suspicious package was found near it. But according to her spokeswoman, the package was not addressed to Harris or her office.
Actor Robert De Niro's restaurant
The NYPD said it was investigating a suspicious package in Tribeca, which was identified as the address of actor Robert De Niro's restaurant.
A law enforcement official told NBC that the package was similar to ones sent to prominent Democrats earlier this week.
Former US vice president Joe Biden
Authorities said they had intercepted two packages addressed to Biden on Thursday morning, one at a postal facility in New Castle, Delaware, the second in Wilmington, Delaware.
What we know about the 'explosive devices'
A picture of one of the suspected explosive devices shared by NBC News. They were said to resemble pipe bombs.
Clint Van Zandt, a former FBI agent, told NBC that bomb experts would examine the devices to see if they were truly functional.
He said that it should be fairly easy to trace back where the packages were sent from thanks to information compiled by postal inspectors.
Van Zandt added that forensics could be key in the investigation since they could determine where the components were purchased as well as fingerprints on the envelopes.
The Washington DC Police Department shared a picture of what the packages look like on Twitter.
There has been no claim of responsibility so far and police continue to investigate where the packages came from.
New York police have issued guidance on how to identify a suspicious package.
Reactions
"What we saw here today was an effort to terrorize. Cleary is an act of terror. Attempting to undermine our free press and leaders of this country through acts of violence. I want to make very clear that the people of New York City will not be intimidated," Mayor de Blasio told a press conference, noting that there was no specific threat to the people of New York, despite heightened security.
He said the current climate had left "a lot of hate in the air" and called on politicians from all sides to show respect and not encourage division.
White House spokeswoman, Sarah Huckabee Sanders condemned the attempted attacks as "despicable." and Donald Trump retweeted a similar message from vice president Mike Pence.
Trump later added that a "major federal investigation was underway".
Democratic leader, Nancy Pelosi, condemned the attacks in a tweet.