Tennis - Father knows best for Wozniacki as dad calls the shots
Comments
By Reuters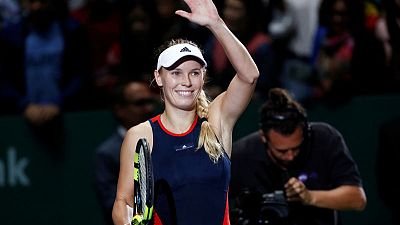 -
By John O'Brien
SINGAPORE (Reuters) – Caroline Wozniacki's father Piotr has been her primary coach since she was 14 years old and the Dane believes their enduring relationship has enabled her to blossom as a player, despite admitting it was something she would not wish to do herself.
The 28-year-old former world number one made her Grand Slam breakthrough at the Australian Open in January and after getting her WTA Finals title defence back on track with a win over Petra Kvitova on Tuesday, Wozniacki praised her father's influence.
"I think he's always treated me as an adult, and I think that's what I really appreciate about my relationship with my dad," Wozniacki told reporters after edging Kvitova 7-5 3-6 6-2 in their White Group encounter in Singapore.
"Since a very young age, I think he also asked me for my opinion. You know, I think it was important for him also to know how I felt, what I wanted, what my goal was so that he could help me achieve what I wanted to achieve.
"I think the fact that he's respected me since I was a kid and respected my opinions and he could see that I could really hold my own, I think has made our relationship this strong.
"Of course, sometimes we disagree on some things and we talk about it or we butt heads once in a while, but I think it's part of our relationship. I think it's part of the coaching relationship, as well.
"But, you know, in the end of the day, we both want what's best, and we both try and find a way where I can improve and I can play my best tennis."
While the world number three is more than happy to have her father guiding her career and giving her tactical advice before and during matches, Wozniacki has no plans to follow in his footsteps when she has children of her own.
"I probably wouldn't want to coach my kid. I think it's a lot. I think it's hard work. I'm very thankful that my dad wanted to take on that role, and I think we have done amazing and we have a great relationship," she added with a grin.
"Hopefully my kids will want to do some sports and be active, and I really want that for them, but if that's not what they want, then that's not what they want.
"If they want to (play tennis) professionally, then they need to find someone else to coach them. I have done this for way too long."
Following a win and a loss in her opening pool matches, Wozniacki needs to beat Ukraine's Elina Svitolina on Thursday to have any hope of reaching the last four at the WTA Finals.
(Reporting by John O'Brien; editing by Martyn Herman)