Museum's ancient biblical artefacts are fake, German researchers discover | The Cube
Comments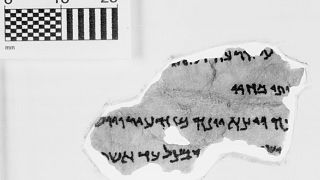 Researchers in Germany have made a controversial discovery after finding several fragments of a biblical artefact featured in a museum in the US are in fact fake.
Fragments of the Dead Sea Scrolls, the oldest known manuscripts of the Hebrew bible, are displayed at the Museum of the Bible in Washington DC, but after questions were raised about their authenticity, the Germany-based Bundesanstalt für Materialforschung und-prüfung (BAM) carried out tests on 16 of the fragments, finding at least five to "show characteristics inconsistent with ancient origin."
"Though we had hoped the testing would render different results, this is an opportunity to educate the public on the importance of verifying the authenticity of rare biblical artefacts, the elaborate testing process undertaken and our commitment to transparency," the museum said in a written statement.
But despite scholars raising questions over the authenticity of the fragments several years prior to being tested, the museum continued to display the artefacts with disclaimer exhibit labels addressing the concerns.
Since the test results pointed toward the fragments being fake, the museum said it had replaced the items with other fragments while further tests were carried out.
Joel Baden, a professor of the Hebrew bible at Yale University, said he found it amusing that the museum would replace the fake fragments with more untested fragments, displaying them with the same disclaimer.
Reputation damaged
The discovery appears to have damaged the museum's already disputed reputation, which was garnered mainly due to the family who founded it. The Green family, who own Hobby Lobby corporation, have a history of controversial artefact purchases.
In 2015, The Daily Beast released an exclusive report quoting US law enforcement officials as saying the Green family had been under investigation for several years for the "illicit importation of cultural heritage from Iraq." The family eventually forfeited these artefacts in July 2017.
Scholars react
The researchers' latest discovery on the Dead Sea Scrolls' forgeries has sparked reaction and engagement from multiple scholars and professors online.
"Honestly, this was just such a stupendous failure of due diligence at every level from start to finish, from purchase to publication to exhibition," Baden added to his earlier tweet.
While Garet Robinson, a graduate student at Harvard University, stressed that "rigorous inquiries about the origins and provenance of the artefacts displayed in the @museumofBible are necessary and important."
"All the antiquities displayed should be under review now."
University of Birmingham professor of New Testament and Christian Origins, Candida Moss, pointed out that a number of experts had already questioned the authenticity of the fragments years earlier, so debated whether lab tests in Germany were ever really needed.
#TheCube is a newsdesk run by a team of Euronews journalists specialising in social discovery and verification. They comb through social media to find, verify, and debunk stories, in real-time, for our audiences on-air and online.