Trump vows to cut Central America aid, raises alarm on migrant caravan
Comments
By Reuters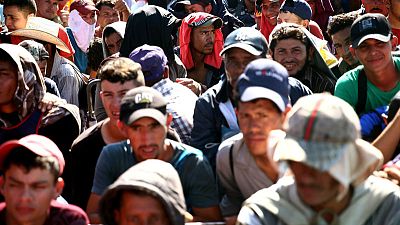 -
By Makini Brice and Delphine Schrank
WASHINGTON/TAPACHULA, Mexico (Reuters) – President Donald Trump on Monday vowed to begin curtailing the tens of millions of dollars in American aid to three Central American nations and called a caravan of migrants bound for the United States a national emergency as he sought to boost his party's chances in Nov. 6 congressional elections.
"Guatemala, Honduras and El Salvador were not able to do the job of stopping people from leaving their country and coming illegally to the U.S. We will now begin cutting off, or substantially reducing, the massive foreign aid routinely given to them," Trump wrote in a series of Twitter posts.
Trump and his fellow Republicans have sought to elevate the caravan, currently in southern Mexico inching towards the distant U.S. border, and immigration as campaign issues ahead of the midterm elections, in which his party is fighting to maintain control of the U.S. Senate and House of Representatives.
"Remember the Midterms!" Trump wrote in Twitter posts decrying the caravan and attacking Democrats on immigration, as Republicans sought to energise their conservative political base.
U.S. administrations long have seen aid programs as an essential part of efforts to stabilise the countries of Central America and stem the flow of migrants leaving.
Trump, who has taken a hard line towards illegal immigration since taking office last year, wrote that he had alerted the U.S. military and Border Patrol "that this is a National Emergy," but did not say what actions he was planning. He also complained that Mexico's police and military "are unable to stop" the caravan.
The caravan was moving north again on Monday as migrants poured out of the southern Mexican city of Tapachula near the Guatemalan border, bound for Tuxtla Gutierrez, the capital of Chiapas state. Some shielded themselves from the midday sun with umbrellas, others with bits of cardboard on which they had slept the previous night. As they left the city and crossed a highway, Mexican drivers honked their horns in solidarity.
U.N. spokesman Farhan Haq estimated that the caravan includes more than 7,000 people, "many of whom intend to continue the march north" towards the United States.
Trump travels to Texas, a key border state, later on Monday to campaign for Republican U.S. Senator Ted Cruz, who is seeking re-election.
Since Trump became president last year, the United States has already moved to sharply decrease aid to Central America.
In 2016, the United States provided some $131.2 million in aid to Guatemala, $98.3 million to Honduras, and $67.9 million to El Salvador, according to U.S. data. By next year, those sums were projected to fall to $69.4 million for Guatemala, $65.8 million for Honduras and $45.7 million for El Salvador. The cuts amount to a reduction of almost 40 percent for the three nations.
Trump was not specific about further aid cuts. Trump also said, without providing evidence, that "Criminals and unknown Middle Easterners" are mixed in with the caravan, a claim immigration advocates disputed.
U.N. PERSONNEL
Haq said U.N. Secretary-General Antonio Guterres spoke with the presidents of Honduras and Guatemala over the weekend and that an "emergency team" of personnel representing the United Nations High Commissioner for Refugees (UNHCR) had been sent to southern Mexico.
Writing in response to Trump on Twitter, Democratic U.S. Representative Don Beyer said: "Trump and the Republicans have controlled the White House and Congress for the past two years. Anytime he whines about immigration, just remember that they have no real solutions."
Seeking to escape violence and poverty in their home countries, the migrants – men, women and children – have defied threats by Trump that he will close the U.S.-Mexico border, as well as warnings from the Mexican government.
The caravan was still a long way – more than 1,100 miles (1,800 km) – from the U.S. border. Mexico hopes to disperse the convoy long before it can reach the border using bureaucratic procedures, telling migrants to register with authorities in order to submit applications for asylum in Mexico.
That process can last weeks, and migrants are supposed to stay where they register while applications are processed. If they violate those rules, they face deportation.
Roberto Lorenzana, a spokesman for the president's office in El Salvador, said the country had slashed migration to the United States by 60 percent over the past few years, a feat its Central American neighbours had not matched. In Guatemala, a border crossing with Mexico and another with Honduras have been closed indefinitely, said Alejandra Mena, a spokeswoman for the country's migration agency.
"We understand that governments in the region are discouraging their citizens from joining the caravan, noting both the dangers of the journey north and that foreign nationals lacking proper documentation would be turned away," said a U.S. State Department official, speaking on condition of anonymity.
Army Lieutenant Colonel Jamie Davis, a Pentagon spokesman, said that while National Guard troops are currently supporting the Department of Homeland Security on the border, the Pentagon had not been asked to provide additional support. There are currently 2,100 National Guard troops along the border in Texas, New Mexico, Arizona and California, according to the Pentagon.
(Reporting by Makini Brice and Delphine Schrank; additional reporting by Susan Heavey and Idrees Ali in Washington, Michelle Nichols at the United Nations, Sofia Menchu in Guatemala City and Nelson Renteria in El Salvador; Writing by Will Dunham; Editing by Jonathan Oatis)