Former Dutch prime minister Wim Kok dies
Comments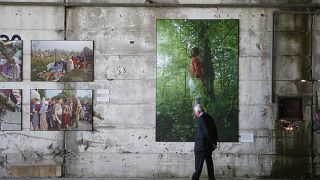 The Former Dutch prime minister Wim Kok has died in hospital in Amsterdam after a long illness.
The trade union leader-turned-politician led two centrist governments in the Netherlands between 1994 and 2002, during which he worked for the legalisation of same-sex marriage and euthanasia.
He was best known for introducing the consensus-based politics that inspired Social Democratic leaders across Europe in the 1990s.
Ahead of Kok's second election victory in 1998, British Prime Minister Tony Blair praised him as "one of the greatest people in politics today".
Kok's middle-of-the-road policies were also praised by former German Chancellor Gerhard Schroeder and former French Prime Minister Lionel Jospin.
But he was forever haunted by the 1995 Srebrenica massacre in Bosnia, when Dutch peacekeepers failed to prevent the slaughter of some 8,000 Muslim men and boys by Bosnian Serb forces.
He and his entire administration resigned after being harshly criticised in a government-commissioned report in 2002 for sending Dutch soldiers into a danger zone without a proper mandate or the weapons needed to protect about 30,000 refugees who had fled to the Dutch base in eastern Bosnia.
The current Dutch Prime Minister Mark Rutte said "was a man to look up to — if only for his long service and great importance for our country".
But Rutte said "it was no secret that the Srebrenica tragedy weighed him down until the very end".
Wim Kok is survived by his wife, Rita, and three children.