Caravan of Central American migrants halted at Mexico border
Comments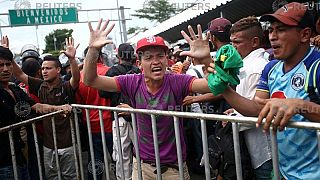 Hundreds of Central American migrants remain stranded on a bridge separating Guatemala and Mexico as efforts to halt a trek north by a caravan of thousands of people gathered pace under U.S. pressure.
U.S. President Donald Trump has warned that the caravan must be stopped before it reaches the United States, and Honduras and Guatemala said late on Friday they were mobilizing to return Honduran migrants to their homeland.
Earlier in the day, hundreds of migrants at the head of the caravan had poured through Guatemalan border posts and onto the bridge, but were repelled by dozens of shield-bearing Mexican police.
Several complained they had been teargassed. Mexico's government, which says it will process migrants' claims for asylum individually, vowed to tackle the caravan as U.S. Secretary of State Mike Pompeo met top officials in Mexico City. Pompeo urged Mexico to ensure the procession did not reach the United States.
Meanwhile, Honduran President Juan Orlando Hernandez was due to meet his Guatemalan counterpart Jimmy Morales in Guatemala on Saturday to implement a strategy for returning the Honduran migrants, their two governments said.
Most of the people now caught trying to enter the United States illegally hail from Honduras, El Salvador and Guatemala, among the poorest and most violent countries in the Americas.
A few of the caravan members, who ranged from farmers and bakers to housewives and students, and included a whole block of friends and family from the Honduran city of El Progreso, said they would start going back to where they came from on Saturday.