More than 55 tonnes of drugs seized in global Interpol operation
Comments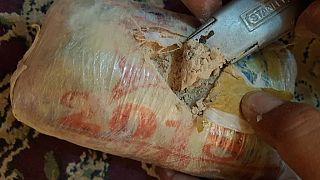 More than 55 tonnes of drugs and other illicit substances have been seized in a worldwide operation coordinated by INTERPOL.
Operation Lionfish (17 September – 8 October) was conducted across 93 countries, leading to the arrest of 1,300 suspects.
The haul saw more than 35 tonnes of cocaine, five tonnes of heroin, 15 tonnes of cannabis and 430,000 Captagon tablets seized.
A major result in Southeast Asia was the uncovering of more than 18 million tablets of the synthetic drug 'Yaba', and authorities across the Middle East discovered cases of Captagon tablets concealed in wire cables.
Authorities in the Brazilian port of Santos found almost 1.2 tonnes of cocaine concealed in a steamroller on a ship bound for Côte d'Ivoire.
In the Netherlands, anti-drug forces dismantled a secret laboratory in a private house with the capacity to produce 700,000 MDMA or ecstasy pills.
This was the first global initiative simultaneously involving all of INTERPOL's regions against drug trafficking.