Europe's space mission to Mercury begins
Comments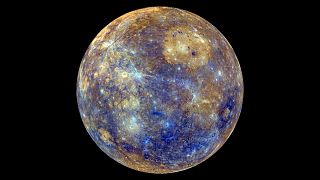 A European-led mission to Mercury, the least explored planet in the inner Solar System, was launched early on Saturday morning.
The joint endeavour by Europe and Japan, known as BepiColombo, hitched a ride on the back of an Ariane 5 rocket that departed from Kourou, French Guinea. By the time it reaches its science orbit in 2026, the probe will have travelled nine billion kilometres and completed nine planetary fly-bys past Earth, Venus and Mercury.
"Mercury is a planet of extremes, and getting there requires some equally extreme techniques, navigation solutions and operations expertise," Paolo Ferri, head of Mission Operations at ESOC, said in a statement.
'Exciting time'
Mercury is the smallest and least explored planet in the inner Solar System — having only been examined by Nasa's 1974 Mariner probe and 2004 Messenger mission. The last mission mapped the surface and found evidence of water ice in shaded craters.
Temperatures on Mercury — the closest planet to the Sun — range from 450 degrees celsius down to -180 degrees celsius and there are signs of past volcanic activity.
This mission will deploy two science orbiters, one European and one Japanese, to make complementary measurements of the planet's dynamic environment at the same time.
Scientists hope to shine a light on the planet's origin and evolution, its interior structure, and learn more about its internal magnetic field.
They also hope get more information on its surface, the composition of its exosphere — a thin, atmosphere-like layer that separates the planet from outer space — and the structure of its magnetosphere — the region around a planet dominated by its magnetic field.
"This is an exciting time," Rolf Densing, the ESA's director of operations, said.
"After months of practice, teams here at mission control are eager to see BepiColombo depart from our planet, and they're ready to guide it carefully every day for seven years until it arrives at Mercury," it added.
€1.7 billion mission
The mission, however, very nearly never saw the light of day.
It was initially destined for a 2013 launch, but fears it might be cancelled first arose in 2005 over funding concerns.
Although it survived a cancellation vote in 2008, it was later pushed back twice, first to 2015 and then to 2018 in order to build the equipment and ensure the planets in the solar system were in the right position to facilitate its route to Mercury.
Overall the joint European-Japanese mission is estimated to cost €1.7 billion.
Mercury Trivia
Mercury is about 3,030 miles (4,876 kilometres) in diameter, making it only slightly bigger than Earth's moon.
The planet takes only 88 Earth days to completely orbit the sun.
Mercury's iron core takes up about 75 percent of the planet's radius.
Mercury's atmosphere is so thin that scientists have another name for it: an exosphere.